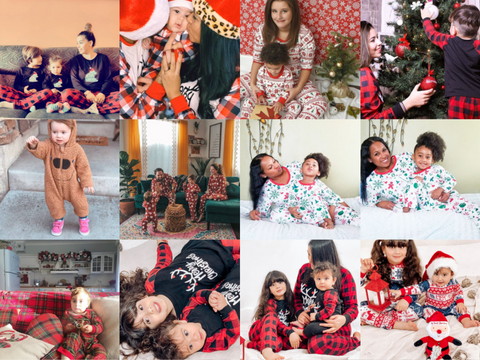 Kick back, relax, unwind. These are all great ideas, but how many gifts actually help a loved one achieve any of these? This is where Chicmatchy comes in. We have over 200 styles of premium pajamas that help people relax, unwind and kick back – all in soft, stylish pajamas.


Sending our pajamas as a gift is like sending a "staycation": your recipients will open their free Keepsake Packaging to find a pair of pajamas that will pamper them so much, they'll feel like they've gone on vacation – right in their own home.


Our pajama styles are made for everyone. Women's sizes range from XS-3X, Men's are M-3XL, infants through toddlers range from 0-3M all the way to 5T, and boy's and girl's sizes run from 6-14. We even have PJs for your cats and dogs, from small to extra-large. Want matching pajamas for the whole family? We offer more family pajama sets than any retailer around. Let us help you find that perfect, fun, matching family set.


Pajamas from Chicmatchy really is the perfect gift. We are Pajama experts, and we have taken the time to find the softest materials for all of our pajamas and designed them in a variety of styles to suit every palette around: from feminine and flirty to cozy and comfortable. Easy personalization adds special touches to your gift, making it truly memorable. Plus, every pair of our Pajamas is backed by our "Love It" guarantee: if for any reason you are unsatisfied with your purchase, you can return it for a full refund or equal exchange.

Give the gift of relaxation – give a Chicmatchy!
Chicmatchy is a fashion clothes and accessory online store. The mixture of trendy, sophisticated and contemporary clothes, and accessories has made Chicmatchy an inviting and stunning online shop.
Our store offers unique apparel and accessories to women who value versatility, style, and comfort. Chicmatchy  prides itself on providing excellent customer service. There is always somebody to answer you and help you find whatever you need. That's not even mentioning our great selection of fun and beautiful Bikini, Clothing, Accessories and much more!  
Order today and let us help you redesign or add to your existing wardrobe.
We have women's clothing, accessories and swimsuit to fit all budgets while maintaining quality.
You are always wholeheartedly welcome at our site, while we try and answer each and every request in emails by our own personal agents. Whether you need assistance in finding a special look or you just want to browse on your own, we aim to make you look and feel good.
If you need to contact us for any reason, you Can write an email to support@chicmatchy.com or by visiting the contact page below.
The Staff of Chicmatchy♡